---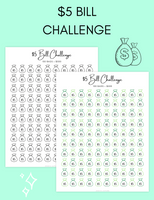 Love Jessica
I am new and new all the digital items so far.
$5 challenge
I haven't put any figures into my challenge page as yet. I have looked over the pages and it will be a fun (and worthwhile) project. Thank you Jessica and crew for all that you do!
5$ challenge
It's a fun way to save money for a rainy day. Super cute money bags make it fun to look at.
$5 Bill Challange
I have started to deposit $5/day in a savings account, when I am looking to buy something unnecessary I put an "x" through how ever many bags that the item would cost, it has really made me think if I really want that thing or if Id rather put it in my vacay fund! It is really working!!
Love this.
I can never seem to save money. I'm hoping this will make me accountable and reward me with some extra cash