---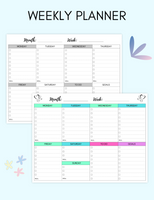 Love this layout
This is a great way to see the week ahead. I love that I could insert in into my digital planner. It's also great as a PDF I can share with my family to keep us on track.
love it
love all the products ive gotten so far they are a great help
Very useful!
I used to have my passwords written down everywhere. Now it is all in one convenient location. Glad I got this to go with my digital planner. Love it!
Haven't had a chance to use these yet but I love the format and colors!
The Best Yet
Took me a while to find one that had what I needed at a price I could afford. I love this planner and I look forward to any new additions coming up.