---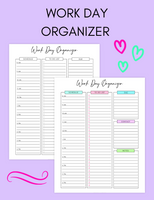 Love the Work Day Organizer
I love the work day organizer. I've used it every day since purchase. It's colorful, fun and keeps me on track.
Best Way to Stay Organized!
This is the perfect way to stay organized at work. I love this extra insert which keeps me from having to look in my Outlook at work. I have everything in one place.
Good
This is so easy and good I love the product.
Amazing
I love this planning system.
I just started using it for my Dog Grooming business. Keeps track of my daily schedule, expenses and taxes!!!
Love it
Schedule
I am able to put my day activities in each day for the times and see what I have to get completed or try to get completed all day long
Thank you for the organization tools to help me more.